The 1m optical telescope, donated by Observatoire de la Côte d'Azur, has arrived in South Africa. It was transported to the Donkerhoek Site of the Council for Geosciences (
http://www.geoscience.org.za
) just East of Pretoria, where it will be refurbished. After refurbishment of the telescope as well as design and testing of other components, everything will be relocated to Matjiesfontein, where it will be assembled into the first Lunar Laser Ranger in the Southern Hemisphere. There are currently only 2 other stations worldwide that can routinely range to the moon.
The Lunar Laser Ranger will be one of the main instruments that will form part of the proposed new Space Geodetic Observatory, located at Matjiesfontein. This observatory will gather data on various parameters describing the Earth and its environment.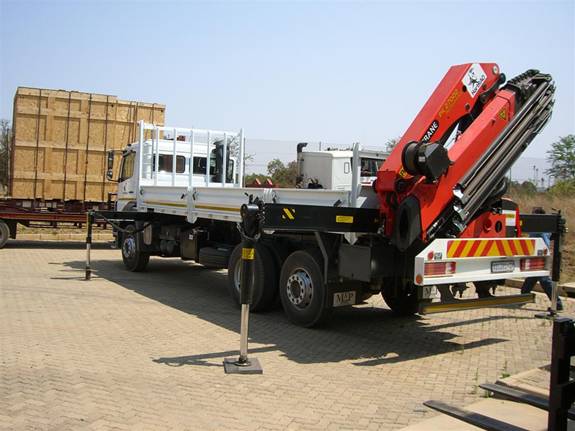 The Telescope on the Lowbed transporter and the HartRAO Crane arrived…
The storage corner
Unstrapping the crates
First Try- Telescope Mount crate, estimated at 3.5 tonnes…. Nope, too heavy, too far.
Trying a second time, a bit closer. Nope- the 3.5 tonnes estimate must be wrong.
Trying a third time, it can lift it. Unfortunately there is not enough space to manouver it…
Unloading the tube crate first
At the door of the starage facility
An easy fit
In place
Still too heavy to lift properly- the truck drives from underneath the mount crate
What we now estimate to be about 5 tonnes, suspended…
The following day we hire a 7 ton forklift to do the move into the storage area, but…
Oops, it seems the centre of mass is on the wrong side of the front wheels…
Fortunately gravity can sometimes be convinced to play along…
A tight fit
It fits- with about 3 centimetres on each side to spare!
Our telescope in place, finally!