Translations: Polish

The Council for Geoscience was approached by the Space Geodesy Programme of Hartebeesthoek Radio Astronomy Observatory (HartRAO) to assist them in finding a suitable site for a new space geodesy and earth observation centre. The proposed site is near Matjiesfontein in the Great Karoo. The site is 5km outside Matjiesfontein in a small depression to shield it from radio frequency interference emitted by cellphones and microwave ovens, and is particularly suitable because of the many cloudless days and clear skies. The site is very close to the contact between the Dwyka Formation of the Karoo Supergroup and the Witteberg Group which is part of the Cape Supergroup. The investigation was geophysical and geotechnical in nature, which included a magnetic, electromagnetic and seismic refraction survey. The geotechnical investigation consisted of eight backacter testpits. Refusal depths were between a few centimetres and 0.5m. The information gathered indicates that the site is very suitable for the proposed development.
The Geotechnical Site Investigation Report contains full details regarding this investigation.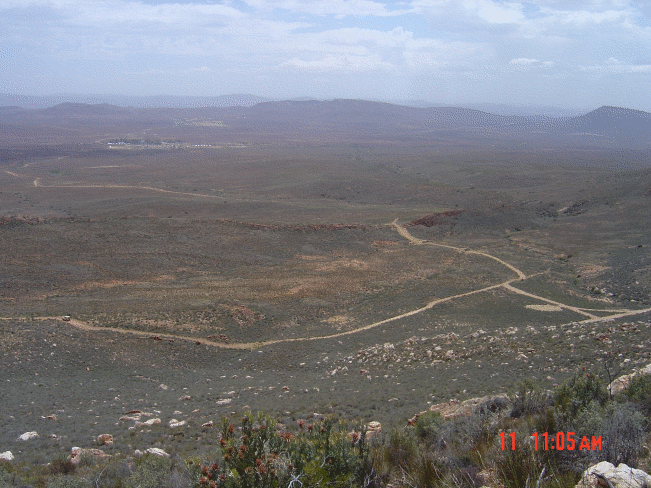 The proposed site for the Outstation is enclosed in a natural valley which would protect the site from RFI and would reduce visual impact from the road. An existing gravel road services the site. The village is about three km towards the north.

A panoramic view of the site in Matjiesfontein. This picture is taken from one of the hills next to the site.